Overview & Gallery
FAQs
Reviews
Regular price
Sale price
$59
Unit price
per
Sale
Sold out
Aeromixer's 1" Watering Wand Kit is a perfect companion to THE HOSE by Aeromixer. The Watering Wand Kit allows you to feed your garden easily and quickly.
22" aluminum watering wand
1" male NPT
Super heavy duty
Anti-clog design
Description

Aeromixer's 1" Watering Wand Kit is a perfect companion to THE HOSE by Aeromixer. The Watering Wand Kit allows you to feed your garden easily and quickly.
Shipping & Returns

Shipping
We offer free shipping on all orders over $249 within the lower 48 states. For more details, please see the Shipping Policy page.

Returns
If you are not 100% satisfied with your purchase, you can return the product and get a full refund or exchange the product for another one. For more details, please see the Returns Policy page.
Warranty

The Watering Wand Kit comes with a lifetime warranty on all components and seals due to manufacture defect or wear and tear.

For more details, see the Warranty Policy page
Tech Specs

Wand Specs:

22" Aluminum watering wand
Super heavy duty
1" Male NPT

 

Valve Specs:

1" Corrosion resistant brass ball valve
Female x Female 1" NPT
Compatible with THE HOSE by Aeromixer and standard 1" garden hoses

 

Water Break Specs:

1" water break
Anti-clog design
Fan spray for even distribution
Rubberized for easy application
Easily adjustable using Aeromixer's 1" Brass Ball Valve
View full details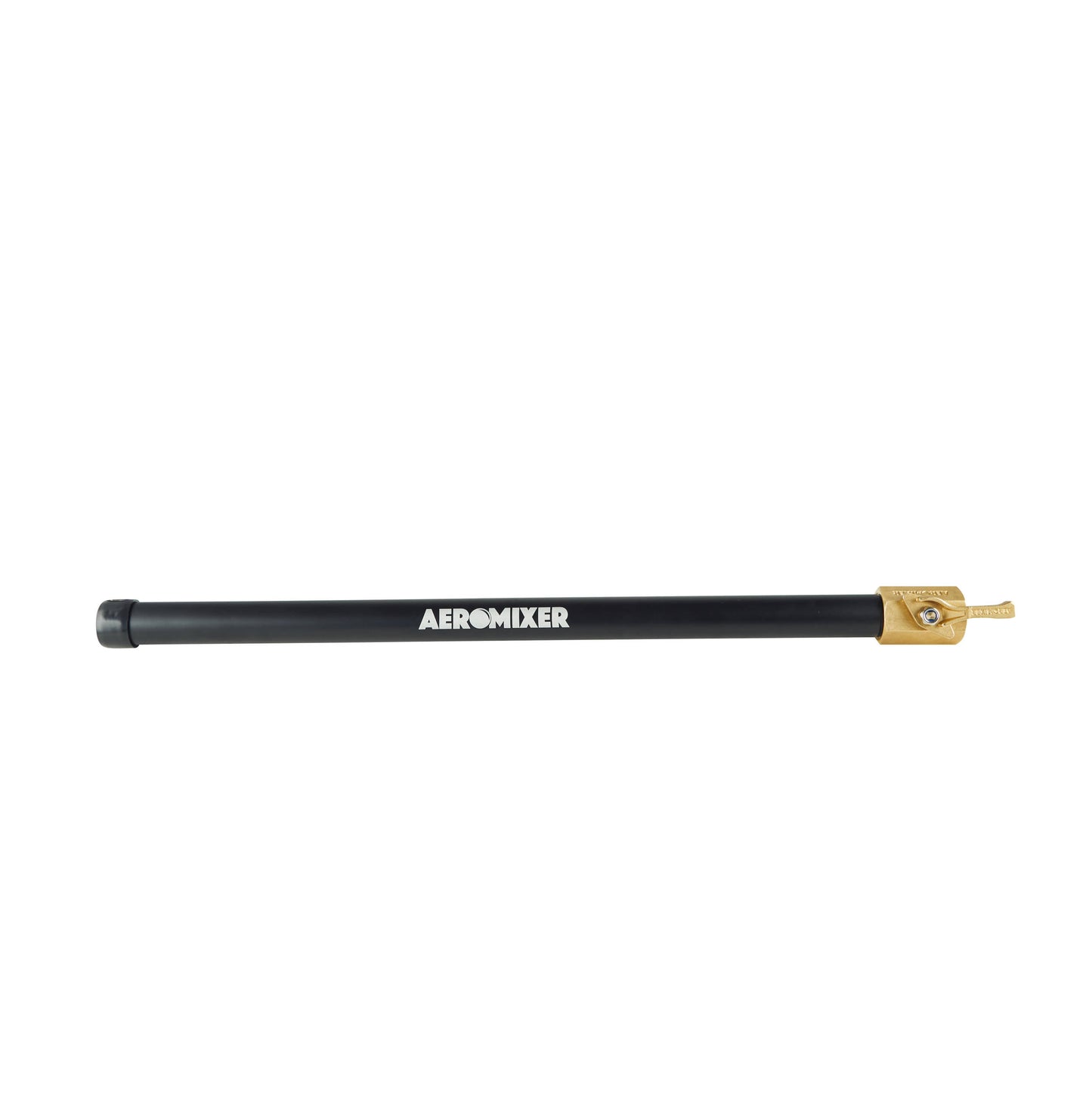 Frequently asked
questions
If your question isn't answered below, reach out and we'll be happy to help!
Can I turn the Ball Valve off while my Aeromixer is pumping?
Yes, you can turn your ball valve off while your pump is running. Aeromixer is considered a high flow pump not a high PSI pump. This allows you to shut your ball valve or watering wand off and move from plant to plant without having to turn your pump off.
Can I connect it to a standard garden hose?
No, this watering wand and all its components are 1" NPT and not compatible to standard ¾" GHT hoses or plumbing.
How do I use the water break?
Install the Water Break by firmly pushing onto the tapered end of the Watering Wand. To adjust spray pattern, turn Ball Valve to the OFF position. If you want to widen the spray of water, pull out and down on the tab. Turn on the Ball Valve to test spray pattern. Adjust again as necessary.
What is the warranty for the Watering Wand Kit?
Lifetime warranty on all components and seals due to manufacture defect or wear and tear.
A really cool and unique product.
I recently tried the aero mixer for fertilizing Japanese maples and various conifer species around my property after years of just using a 30 gallon fimco sprayer the ease of use is incredible. I popped it in a rubbermaid 300 gallon feed trough threw in some impello 7-6-5 and away we went. Took 30 minutes to transfer it through 100 feet of The hose with the aluminum sprayer and the trees look extremely happy after all this crazy heat that has been hitting us in Georgia. Only regret was not grabbing two at the time. In a couple of months I'm going to grab another one to put behind the house in another tote. Really did turn a pretty miserable task into something that can be done with a beer in one hand. Another cool feature is I took a kochek high pressure nozzle and a 1inch npt to 3/4 ght head and can now use it for all my turf fertilizer with any of my sprayers or sprinklers. It moves two heads very easily and if you have a sprinkler booster pump attachment after the pump it is making 80 psi out of two melnor tripod sprinklers and covering 7000 sqft with me not so much as lifting a finger. other options for me now include making excuses for why I need 4 more bags of fertilizers to try. It really does simplify a very tedious task and can make something that is a time chore become something easy.
1" wand and hose kick ass
Saves me a ton of time watering!!
Thanks for the review !
The hose sure does throw our a massive amount of water. Glad you are loving it.
Have a great week
Top quality
Best up tool of the year.
Awesome, stoked you are stoked!
Thanks May,
Hope you are having a good 2023
It definitely mixes very well
I went all out got the 1inch hose and the synthetic pro mini kit because it came with timer. I told the rep. That I wanted to use it for AACT compost tea's. I whish I would have know for $10 more I could have got one with a temp shutoff which would work alot better for what I'm doing. But it still mixes well and the claim is I can still set the timer and go that route for my tea but I haven't taken the chance, I still use air pump and stones, and tea bag. I also didn't realize I wouldn't be able to attach the 1inch hose to anything other than the aeromixer. Unless I add a 3/4" water line and a 1 inch spigot. So I definitely feel due to my own stupidity I bought stuff I really didn't need. But with all that said it all works very well. And the mixer/pump is very strong. And as time goes on I'll probably figure ways to use all this stuff to my advantage.
Choosing a selection results in a full page refresh.
Opens in a new window.