Overview & Gallery
FAQs
Reviews
Regular price
Sale price
$79
Unit price
per
Sale
Sold out
Aerobuddy gives you complete control of aeration and mixing in your feed tank when used with an Aeromixer. Choose the power level, set the run time, or control both at once and take the guesswork out of mixing. 
Description

Say hello to Aerobuddy, an easy-to-use tool to help farmers like you save time and grow happy plants. Aerobuddy gives you complete control of aeration and mixing in your feed tank when used with an Aeromixer, making it great for farmers who want a more gentle agitation on compost teas, or more versatility when mixing smaller tanks! Choose the power level, set the run time, or control both at once and take the guesswork out of mixing.
Shipping & Returns

Shipping
We offer free shipping on all orders over $249 within the lower 48 states. For more details, please see the Shipping Policy page.

Returns
If you are not 100% satisfied with your purchase, you can return the product and get a full refund or exchange the product for another one. For more details, please see the Returns Policy page.
Warranty

Aerobuddy comes with a 90 day warranty + 1 year extended warranty through Clyde on all components due to manufacturing defects or wear and tear.

You can also purchase up to a three year extended warranty for as low as $7.99/month. Just contact us at claims@aeromixer.com and we can create a custom order for you.

For more details, see the Warranty Policy page
Tech Specs

Max input 15 amp
On up to 30 min, off up to 60 min
Three settings (Speed, Temp, Speed + Temp)
Three prong plug
One-Year Warranty
Aeromixer NOT included
View full details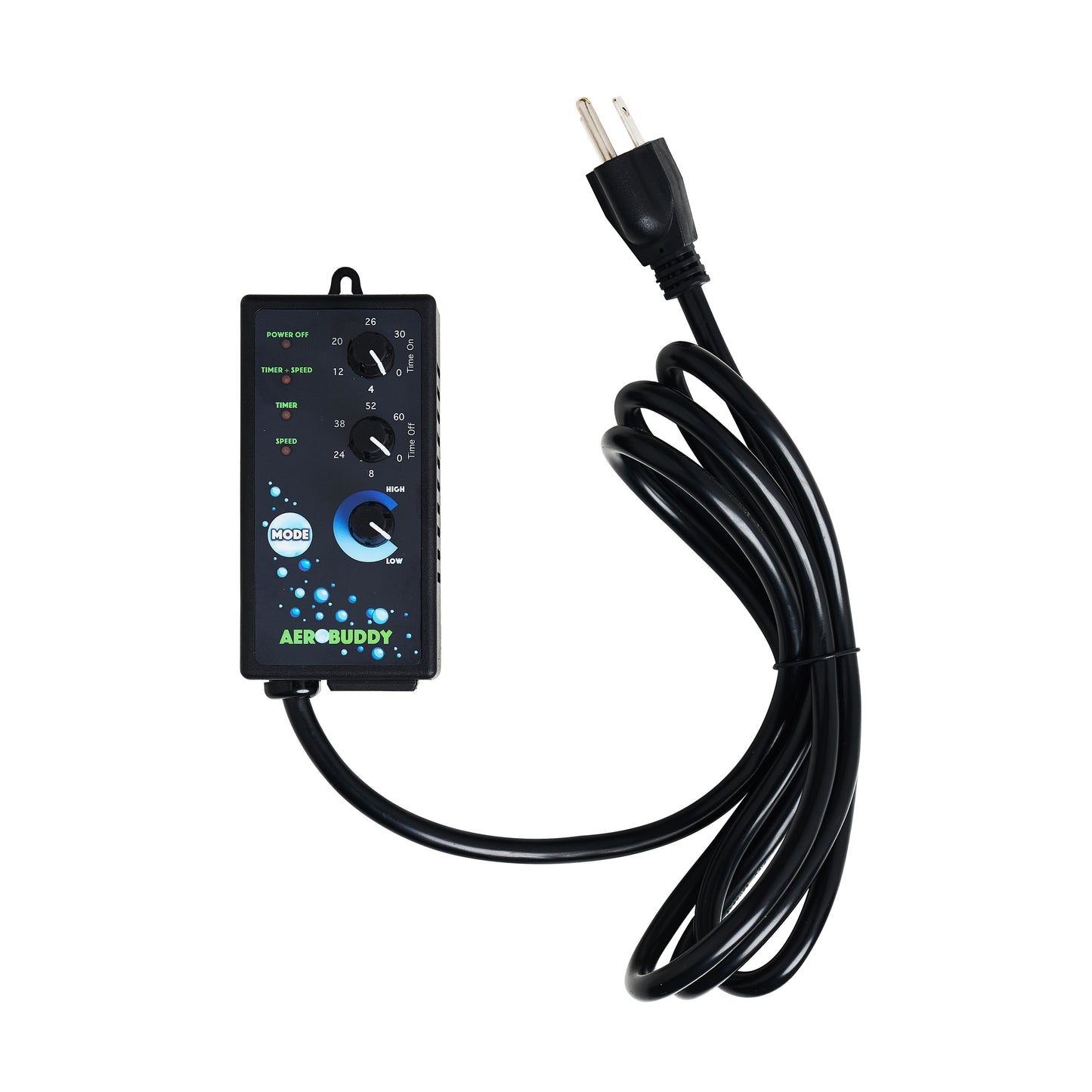 Stabilize pH
easily
Aeromixer utilizes Patented Aerojet Technology to inject air into your feed mixture, reducing the need for pH stabilizers and evenly mixing the fertilizers in your tank. This means better nutrient uptake, and happier, healthier plants!
No more
wasted nutrients
Call upon Aeromixer to save the day! Keep your nutrients mixed and SMASH sediment in the face! Don't get caught with a cheap sump pump doing your dirty work... That would be embarrassing...
Frequently asked
questions
If your question isn't answered below, reach out and we'll be happy to help!
What time periods can the timer be set for?
The timer can be set from 5 seconds to 30 minutes on, and from 5 seconds to 60 minutes off.
Why would I want to have my Aeromixer be less powerful?
Aeromixers are very powerful pumps and in too small, or too shallow of a reservoir they can make a mess or splash liquid outside of the tank. The Aerobuddy makes it easy to find the exact agitation that fits your reservoir.
Can I plug more than one Aeromixer into an Aerobuddy?
No. When our pumps kick on the surge in amperage is too much if you have multiple units plugged in.
Can I use this with other products?
Yes, but please consult manufacturer of any other products to confirm that it is a controllable motor before plugging into the Aerobuddy.
What is the warranty for the Aerobuddy?
15 month warranty on all components due to a manufacture defect or wear and tear.
Will the unit reset after a power outage?
No, our control units will need to be turned back on after a power outage.
Great communication
Customer service and feedback seems to be top priority that's wonderful! Only thing negative thing I have heard about aeromixer is that it clogs I haven't had any issues with mine and I've ran it for a season brewing Roots products even ran some other tea that was chunkier through it and worked fine . You probably can't pump oatmeal through it- and should probably run water and vinegar through it after each use like I do ph at a 6.5 water my yard plants while flushing my aeromixer.
What up Brian
Thanks for stopping by to leave a review. The Aeromixer wont clog unless a customer is using particulates that are larger than 1/4 or dumping a large amount of fertilizer directly on the unit.
Have a great fall Brain
Cheers from the Aeromixer family
Quality products!
Highly recommend! Love the new controllers!
Thanks Lee
Customers like you are what make our days brighter.
Aeromixer and aero mixer buddy
Works fantastic. Keep our teas moving and our micro organism growth has doubled!!! Proud to be a part of the team. I am uploading videos soon!!!
Awesome Andrew
With the controller the Aeromixer is truly a compost tea brewing wizard. Thanks for taking the time to leave a review
Aero buddy my awesome new friend
The aero buddy is my new favorite attachment for the Aeromixer, it makes my salt based nutrient's stay mixed up & doesn't let them sit on the bottom of the reservoir. It's also great for organic teas
Best Mixer on Earth
Nutrients, Teas, this pump is the best!!!! Have both the <50 gal and 150! OMG BEST PUMP WILL NEVER USE ANTTHING ELSE -Ash
Choosing a selection results in a full page refresh.
Opens in a new window.